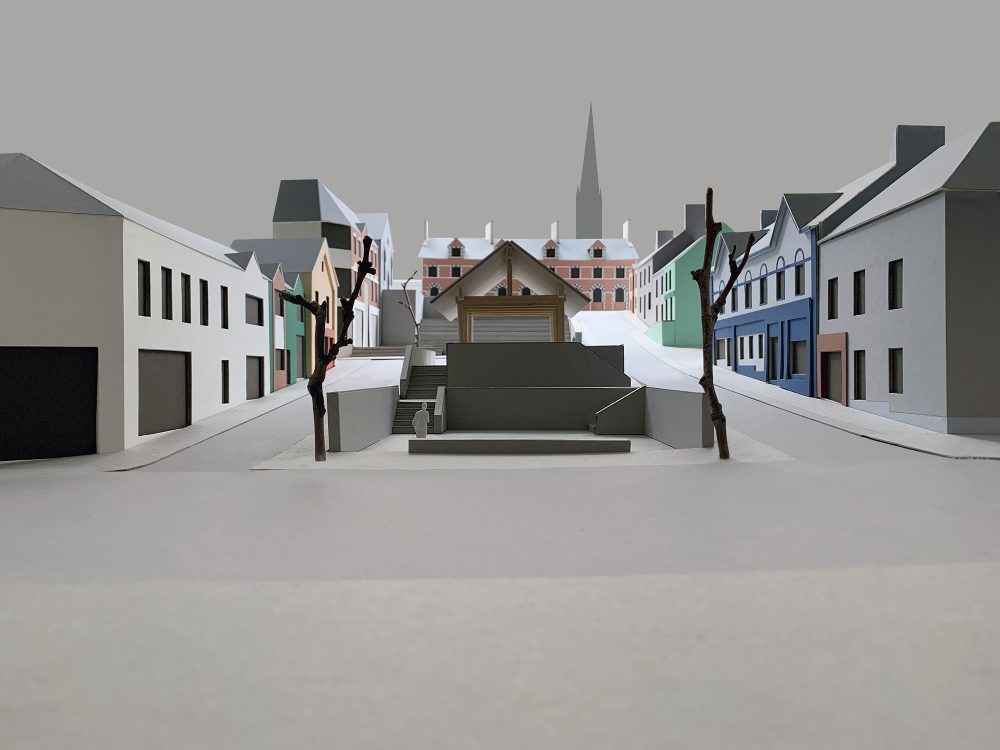 Letterkenny Market Square
Once a vibrant gathering place, the square is now a traffic-choked thoroughfare; a place to pass through rather than one to come together. Valuing and reinforcing the best aspects of what is already there, we propose a new marketplace, a communal and public dining room and a stepped landscape and raised stage for theatre and other outdoor performances, galvanising Letterkenny's position as a cultural locus in the northwest of Ireland.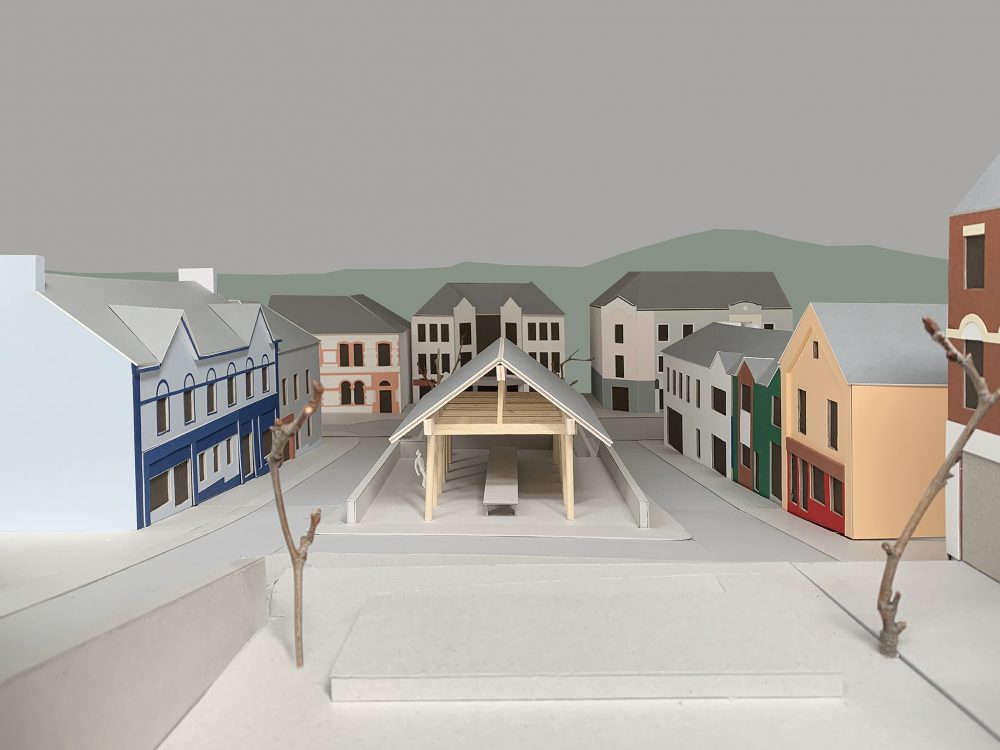 Letterkenny Market Square
The stepped theatre seating rises up with the topography of the site to meet the level of Mountsouthwell Place, from where expansive views open up across the town and the rural landscape of the River Swilly Valley. In the evening the sun sets behind the audience, illuminating what takes place on the stage. As the steps face south-east, they will also become a natural gathering and meeting place during the day, as well as a place for children to play in an informal way.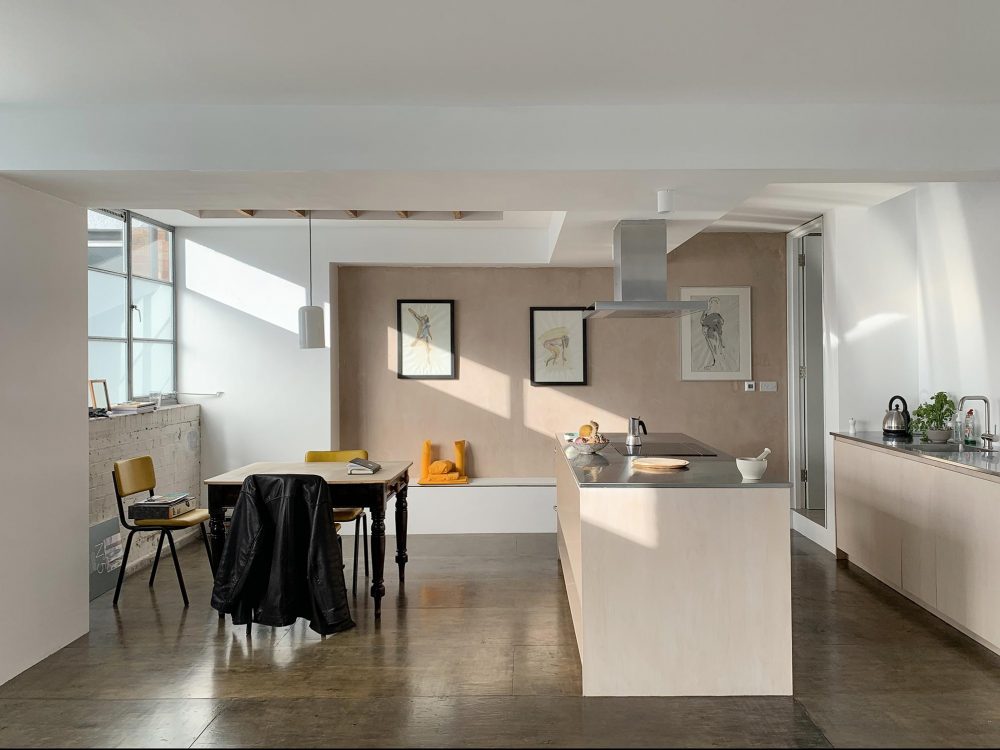 Princelet Street
This refurbishment of an apartment in a warehouse building in Spitalfields builds on work by Lynch Architects dating from the late 1990s. The apartment has been occupied by the same owner ever since, but as he approached the next phase of his life he wished to make some changes to his home.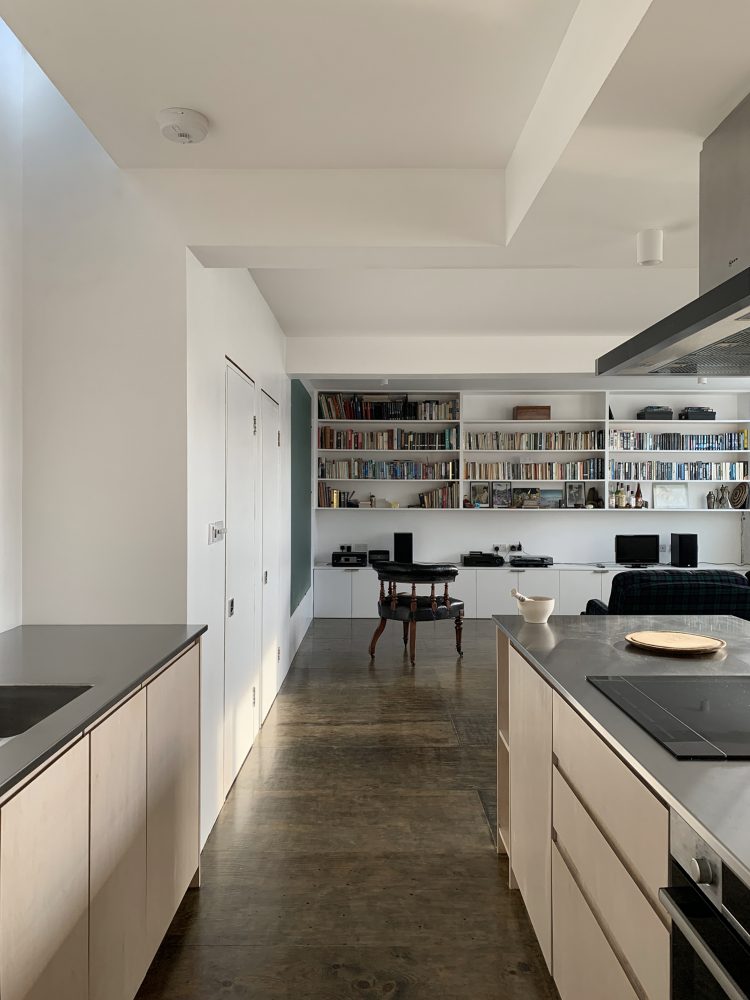 Princelet Street
We carried out a series of environmental upgrades to make the apartment less carbon intensive to run, and reconfigured the kitchen and bathroom to provide more storage space and a downstairs walk-in shower.
Curious Kudu
For this gallery and private dining space in Peckham, we were interested in reducing the waste created by retail-fit outs. Three furniture elements are inserted into the room; a plinth for window displays, a long table for objects and for dining, and a sales desk.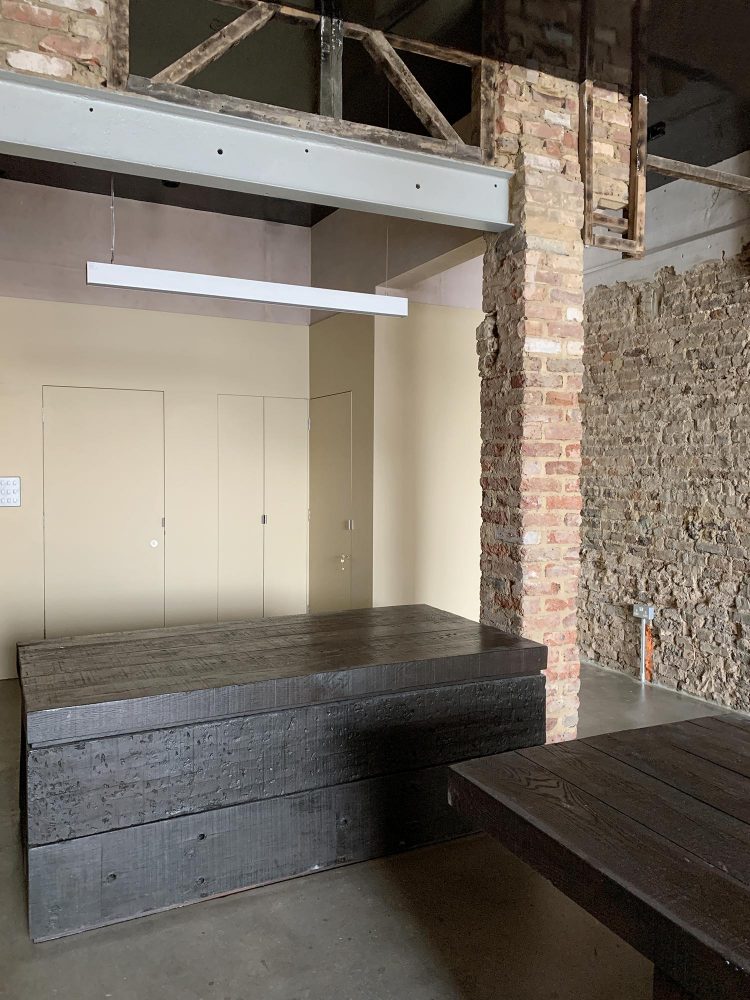 Curious Kudu
The furniture is made predominantly from recycled railway sleepers cut, stacked and assembled in various ways. Internal finishes are also kept to a minimum. There is little that cannot be re-used or recycled when our client moves on.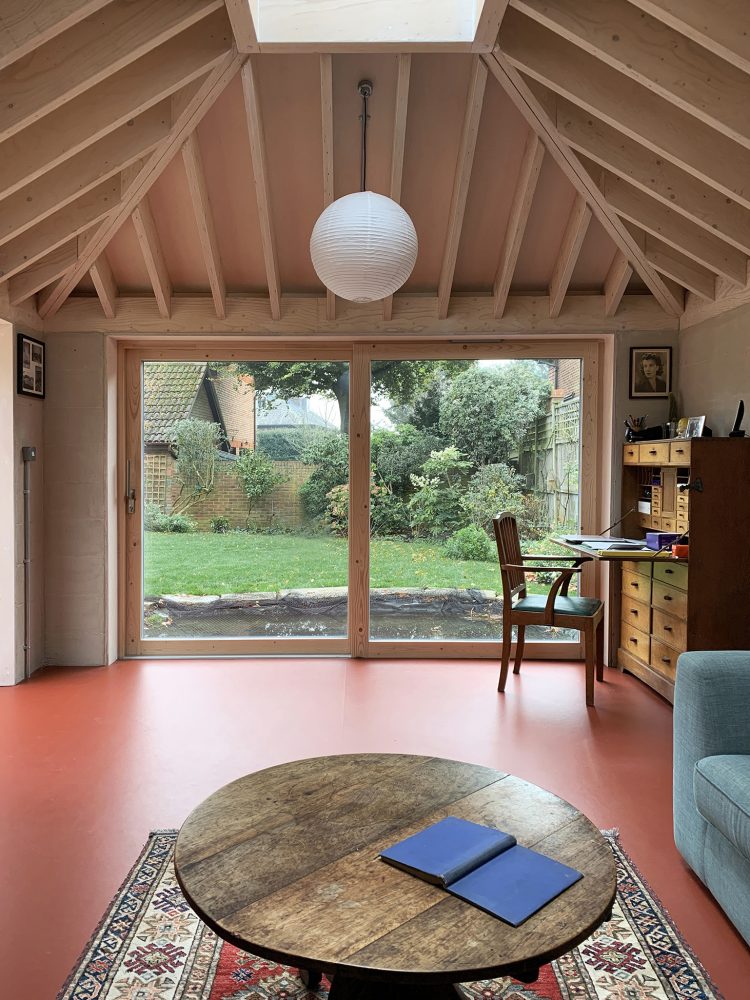 A Room in a Garden
We have recently completed this project for a garden pavilion in South-West London. Our clients have a tight budget and so we have been experimenting with an architecture of off-the-shelf components, pared back to only the most essential elements in order to minimise costs.
A Room in a Garden
Our approach included eliminating traditional finishes and linings, with the timber roof structure exposed and the blockwork walls finished only with a simple lime plaster.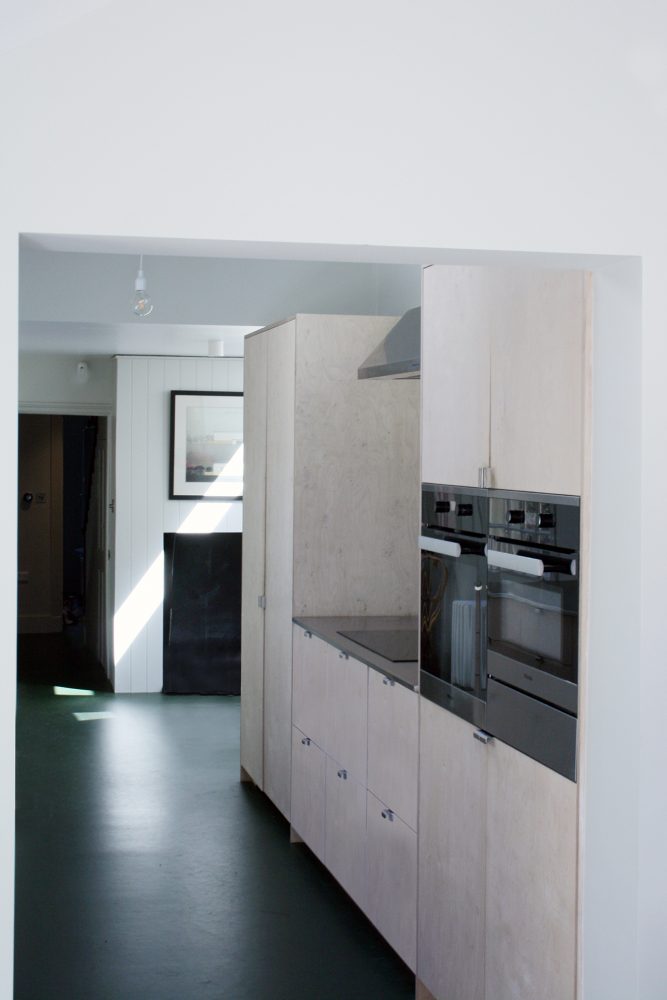 A House in Peckham
The refurbishment and extension of a Grade II listed Georgian house in Peckham for a young family. Untouched for decades, the house required extensive insulation and damp-proofing in order to create a comfortable internal environment while also retaining a great deal of historic fabric.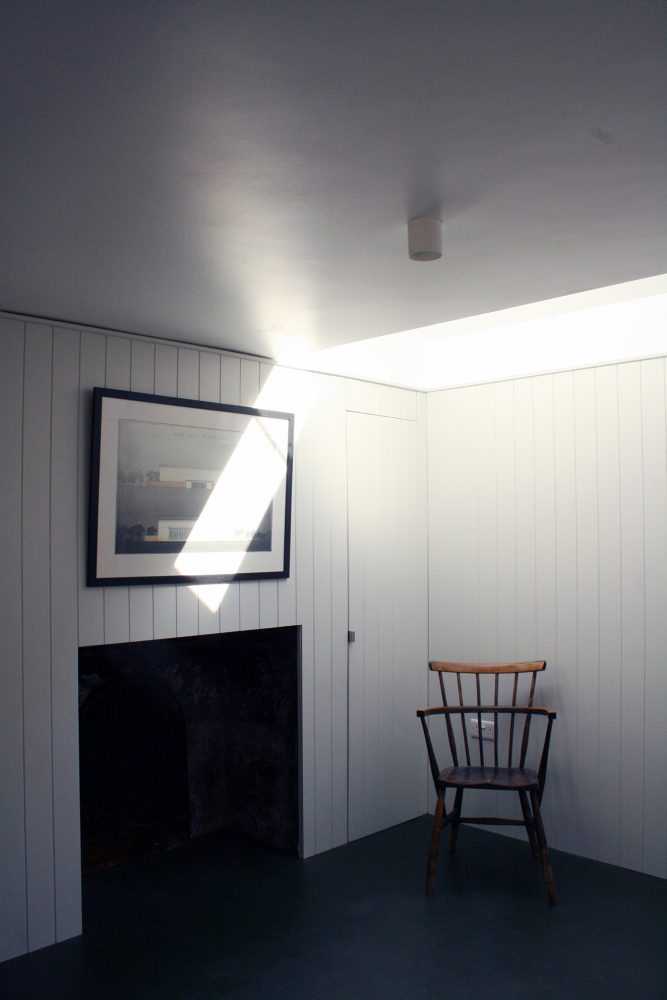 A House in Peckham
The existing rear kitchen extension was damp and dark; by reconfiguring the roof, we were able to bring light into the darkest part of the long, narrow plan, while elsewhere a new dining room was added opening onto the garden.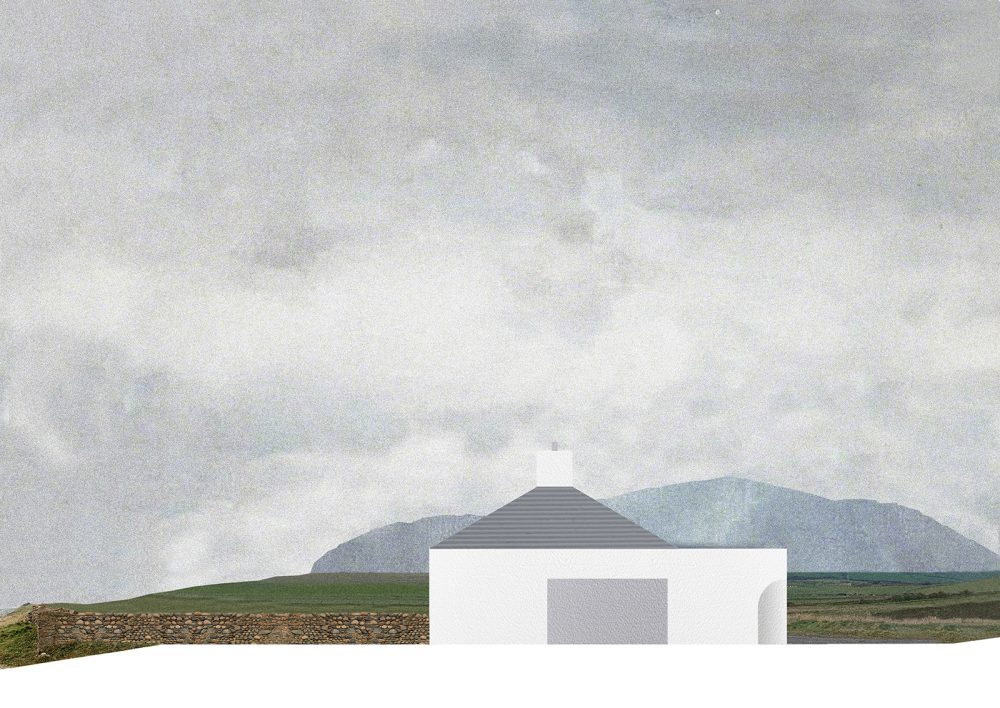 Silecroft Beach Café
Our proposal for a small community-run café on the Cumbrian coast reinterprets the traditional masonry walls, pitched roofs and prominent chimneys of the typical dwelling to make a contemporary 'house for the public' at the foot of Black Combe, overlooking the Irish Sea.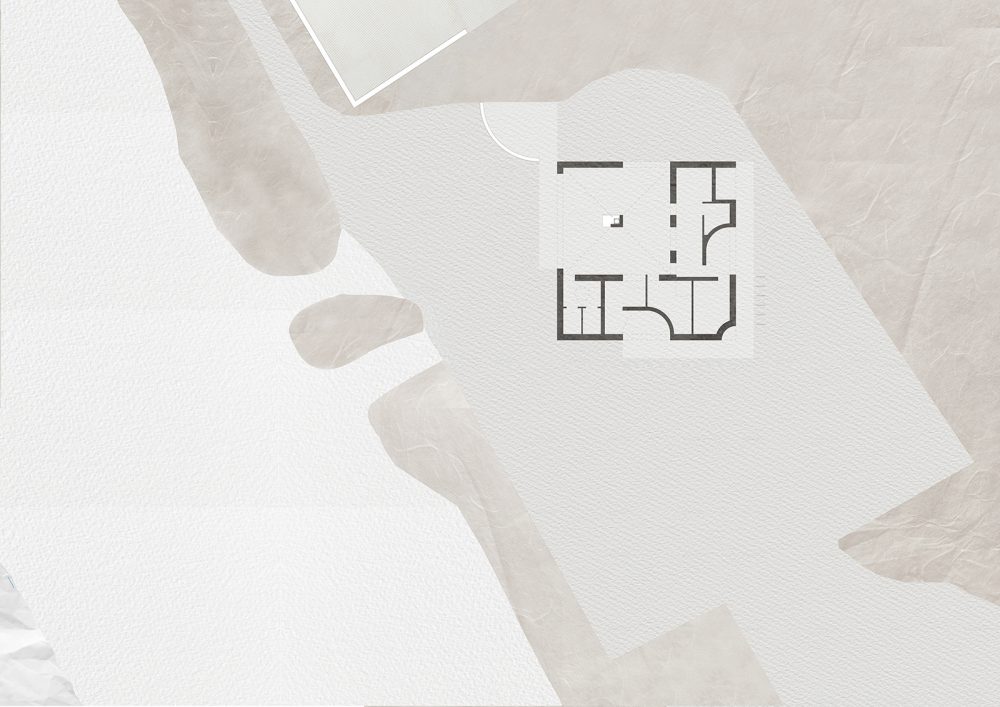 Silecroft Beach Café
An architecture of thick masonry walls, the building responds to its exposed location, buffeted by south-westerly winds from across the sea. Curved entrances are scooped out from this enclosure, providing spaces of shelter at the threshold between inside and out. The building is oriented to maximise views to the beach and to the slopes of Black Combe from within the dining room, which has a fireplace at its centre for warming up on cold winter days.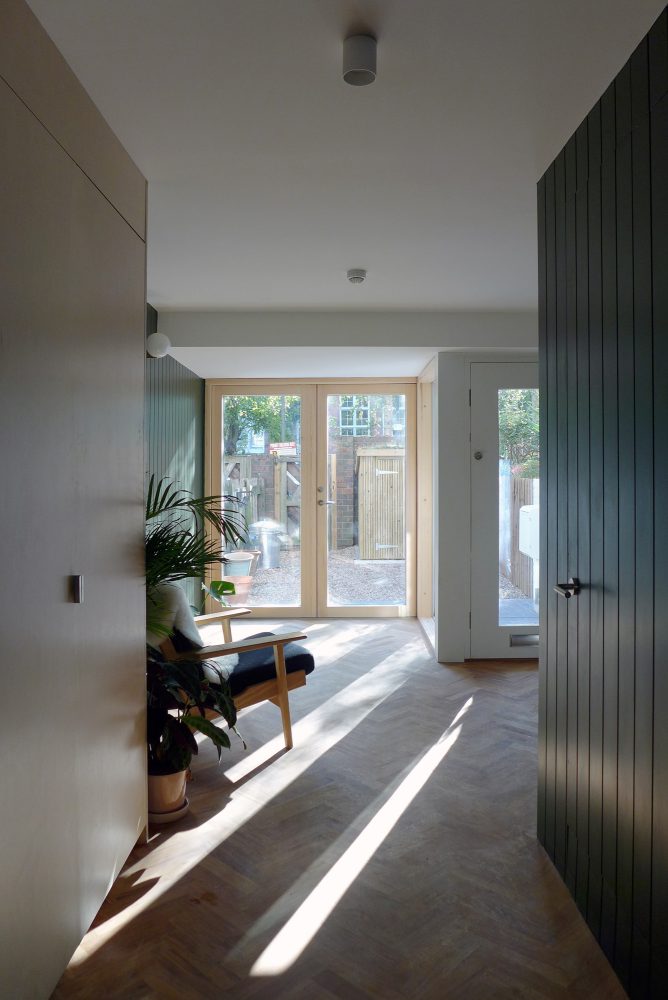 Sewardstone Road
This refurbishment project for a 1980s house began life in the office of Lynch Architects. With new clients and a revised brief, we sought to improve the quality of its rooms – small and introverted – by reconfiguring the stair to create a long view through the house at ground floor level. This new stair is concealed within a green timber enclosure which rises through the house, its colour amplifying the foliage of the trees in the park beyond.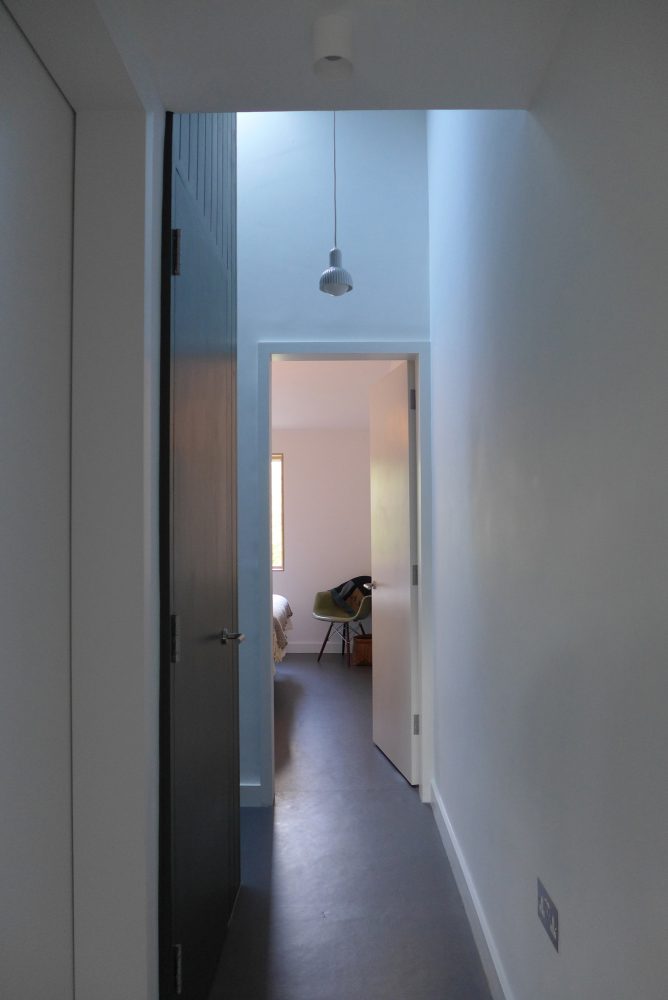 Sewardstone Road
The existing loft was converted into a new bedroom and study and this created the opportunity to drop natural light down to the floor below, where the master bedroom and dressing area are located. A rooflight illuminates the stairwell and emphasises the height of the space, a contrast to lower ceilings elsewhere.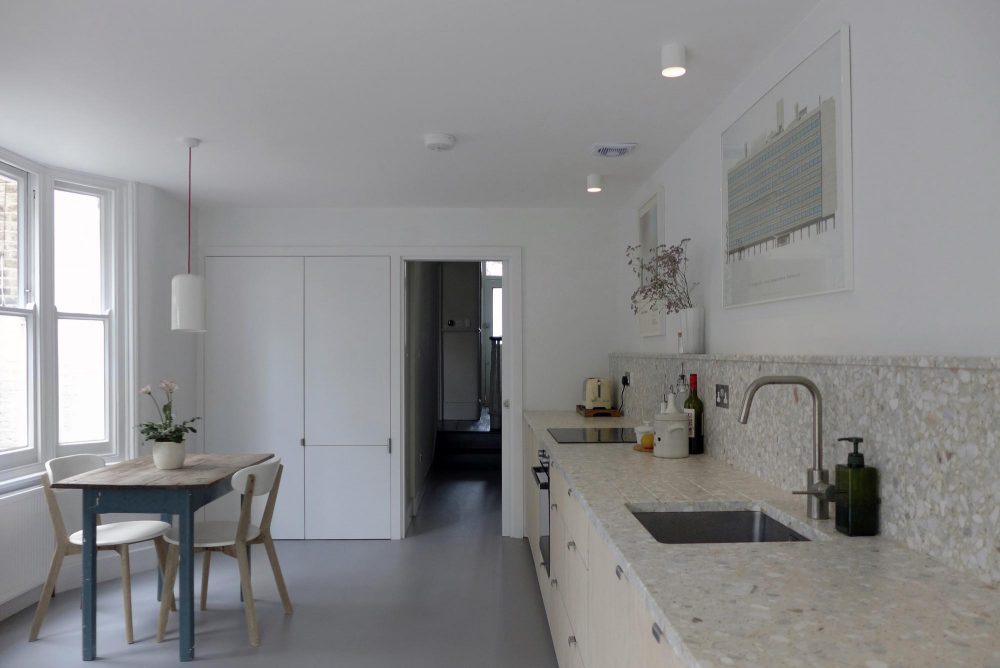 New Cross
This refurbishment of a terraced house unpicked an existing warren of rooms to create a kitchen with a better relationship to the other living spaces and to the garden. Tall appliances are concealed in cupboards which frame the door, allowing for a low counter to run the full length of the room. A breakfast table sits in the east-facing bay window.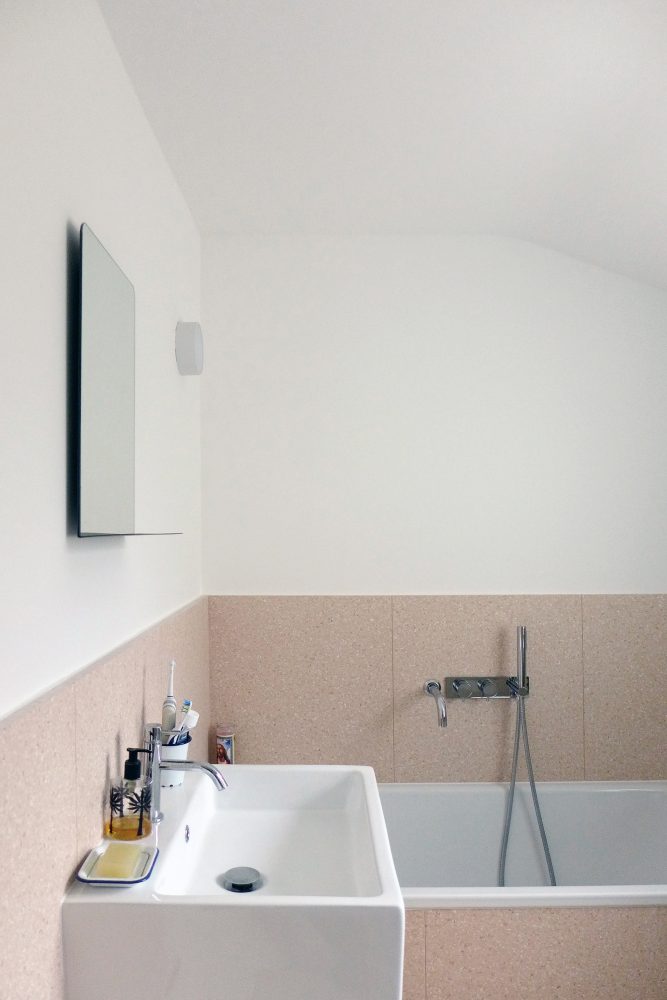 New Cross
The family bathroom is tiled with a pink terrazzo in a nod to our client's Italian family. A horizontal datum line is established above which the walls are painted; this makes the low-ceilinged room feel taller.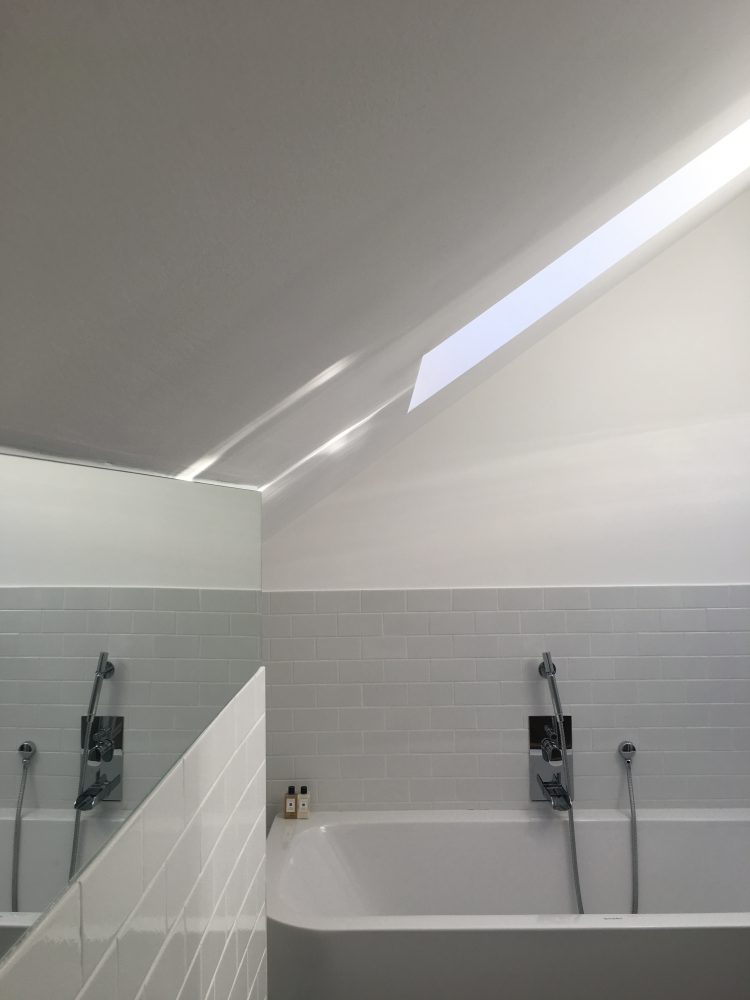 Coolagad
This bathroom takes advantage of its location tucked beneath the sloping roof of a house in Ireland. The height of the room is emphasised by continuous low-level tiling which forms a datum beneath which washing and bathing occur. The bath is positioned below a west-facing rooflight through which evening light, sunsets, and the night sky can be enjoyed.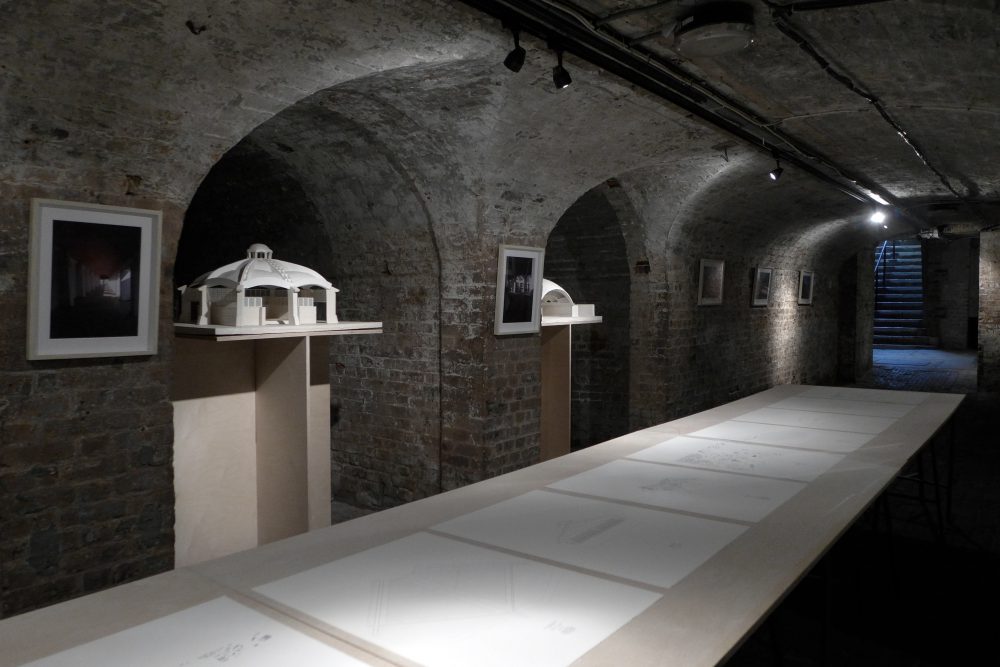 Portico and Patio
This exhibition, held at the Crypt Gallery in London in September 2018, captured the uniquely inventive architecture that was born out of the restrictive economic conditions of the period immediately following the Cuban Revolution of 1959 in drawings, models and photographs. The research was supported by the RIBA Boyd Auger Scholarship.
Studio HR-0-01
124-150 Hackney Road
London E2 7QS
Howland Evans Architects was founded in 2017 by Laura Evans and Joe Howland. We are interested in making buildings which recognise and amplify the qualities of the place in which they are located; architecture which above all is appropriate – to time, place, budget and use. We begin with a careful and considered analysis of the existing situation, then develop designs through sketching, drawing, and making physical models and collages which investigate material, structure, space and inhabitation; always seeking to interrogate and refine our initial response. We have worked on projects ranging in scale from small domestic extensions to large masterplans, and welcome all enquiries.
Laura Evans BA (Hons), Dip Arch, ARB, RIBA, FHEA
Laura studied History of Art and Ancient History at Trinity College Dublin, before studying Architecture at the University of Limerick and London Metropolitan University. She has worked in practice in both Ireland and the UK; most recently she spent six years at Lynch Architects in London, where she became an associate. There, she worked on a variety of projects ranging in scale from domestic refurbishments through to cultural buildings, office developments, large residential projects and masterplans throughout London. Laura is also a Senior Lecturer at Kingston School of Art and has been a visiting critic at The University of Cambridge, TU Dublin, the University of Liverpool, the University of Nottingham and elsewhere.
Joe Howland MA (Cantab), Dip Arch, ARB
Joe studied Architecture at Cambridge University and London Metropolitan University. Prior to starting the practice Joe was an associate at Dow Jones Architects, where he was the Project Architect for a HLF-funded £4.5M extension to the Garden Museum in Lambeth. He has previously worked on projects of varying scales at Stiff and Trevillion, Prewitt Bizley and Lifschutz Davidson Sandilands. Joe also teaches at Kingston School of Art.